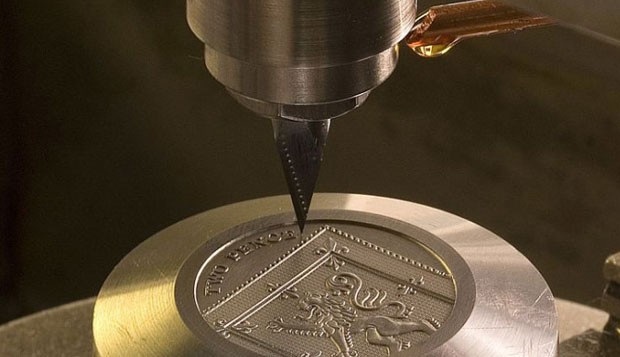 Royal Mint has taken exemplary steps
Royal Mint has taken exemplary steps
And is now using Neutralac SLS45
With the treatment of trade effluent increasingly coming under the spotlight, the Royal Mint has taken exemplary steps in buil¬ding a brand new multi-million pound effluent plant to replace two existing treatment lines. This will permit the business to discharge 100% of its trade effluents to the sewer.
The new plant, soon to be commissioned, boasts state of the art ultra sound techniques that deliver environmentally considerate results, while offering an optimized and cost effective treatment process for the removal of both unwanted metals and sulphates from the effluent stream.
Lhoist UK Ltd, The Royal Mint's latest supplier, delivers a unique liquid lime reagent, Neutralac SLS45. It has only been available in the UK for 18 months yet during this time Lhoist UK has worked closely with The Royal Mint's consultants to make best use of this ground breaking lime product.
Operating all year round and with such high prerequisites, the new effluent plant requires reagents of equally high caliber to comply with environmental discharge regulations. Neutralac SLS45 is such a reagent; an innovative high strength liquid lime born from research and development in Belgium.
As an alkali product with proficient metal precipitation capabili¬ties, it is an ideal pH corrector that already has a strong portfolio in metal treatment sectors across both Europe and the UK. It was the first and only choice for a plant that would be treating waste water containing nickel, copper, zinc and iron.
Its performance in treating effluent carrying heavy metals is strongly supported by case studies showing reduction levels of 93 percent and 70 percent for Cr and Co respectively, whilst also minimizing the risk of redissolution of trace metals. Neutralac SLS45 widens the standard pH range for the removal of metals overall and thus allows for the concurrent precipitation of most metals, with both chromium and zinc for example being remo¬ved within a single treatment step.
Developed and manufactured by Lhoist, the worlds leading lime manufacturer, Neutralac SLS45 represents a high reactivity re¬agent (KIWA T90 < 5sec), that is optimized for rapid acid neutra¬lization and pH adjustment. Its high performance is matched by Lhoist UK's commitment to offer a service that is in line with the Royal Mint's stringent requirements and continuous operation.
Lhoist UK will further participate in reducing money and labour costs
By monitoring stock levels via telemetry, Lhoist UK will further participate in reducing money and labour costs.
Along with its multiple functionalities, Neutralac® SLS45 has proved it will minimize the consumption of additional flocculants by displaying flocculation functionalities itself. Indeed, the uses of Neutralac® SLS45 have spread beyond the metals industry to include the treatment of organic wastes with uses in the food and dairy industries.
Adept at removing sulphate, phosphate and FOG, Neutralac SLS45 has yielded positive results across many market sectors particularly in instances where alternatives to caustic soda are sought on grounds of its corrosive nature, or when magnesium hydroxide slurries have proven themselves to be incompatible with existing processes and a drain on maintenance resources.
Neutralac SLS45 has proved itself to be an ideal substitute to more traditional reagents. It is ideal in operations where sludge is treated on site. The resultant filter cake undergoes a higher rate of dehydration, offering some customers a 30 percent re¬duction in the volume of dewatered sludges, improving filtration capacity and decreasing disposal costs.
Neutralac SLS45 is only produced by Lhoist UK, near Buxton, Derbyshire. It is produced on demand, with a guaranteed secu¬red supply always available at predictable prices. Whatever you require, IBC-sized loads or bulk loads exceeding 20t, Neutralac SLS45 can be delivered to site along with relevant storage solutions.
For further information on this product contact Xavier Mear, Product Manager, Lhoist UK Ltd, [email protected] – 01298 768641
Like ! Share with friends
on the following networks